When one thinks about evidence-based practice (EBP), some of us in the healthcare world question whether it is a "buzz" word or if this is being implemented into practice (Ross, 2006). From a nursing perspective, it is best to investigate the history of nursing and Florence Nightingale, the mother of nurses, to address the concern. (Karimi & Masoudi Alavi, 2017). In many of her published and unpublished works, Florence Nightingale documented concepts that align with what the healthcare profession calls evidenced-based practice today (McDonald, 2001). For example, Florence's experience during the Crimean War (1854) prompted her to collect statistical data on the mortality rate of soldiers due to infection and being cared for in unsanitary conditions. She then used the results of the data to implement changes to produce better patient outcomes (McDonald, 2001).
Jane Addams, the recognized founder of the social work profession, also used EBP. Hull House, which was a housing settlement founded by Addams, used the slogan "research, reform, and residence" to address social reforms such as immigration, juvenile delinquency and poverty (Maschi, 2016).
The above information brings us to the question, "What is evidence-based practice?" According to Dearholt and Dang (2012), EBP is a problem-solving approach to clinical decision-making within any healthcare organization. So the next logical question would be, "What is Research?" Dearholt & Dang (2012) describe nursing research as involving qualitative (quality of something) and quantitative (quantity of something) systematic methods with an EBP approach to improving patient care, care systems and therapeutic outcomes. Thanks to Jane Addams, social workers define EBP as "the conscientious, explicit and judicious use of current best evidence in making decisions about the care of the individual patient" (Maschi, 2016).
When the terms EBP and research come together, it helps the case manager better visualize how the role of the case manager adds value to these concepts. The case manager's role involves many functions concerning EBP and research. These functions consist of patient advocacy, utilization management, care coordination and cost containment, which are functions recognized by the Case Management Society of America (2022).
The professional case manager holds the primary role of being a patient advocate. This role mandates the professional case manager to be patient-centered while maintaining the education and skills needed to deliver quality care. The professional case manager must demonstrate knowledge in multiple areas within the healthcare continuum, including evidenced-based practice and research (Case Management Society of America, 2022).
The professional case manager performs screenings and assessments, develops plans of care, implements, coordinates, monitors, evaluates and finally closes the case by transitioning the patient to another level of care. This process demonstrates how critical the professional case manager's involvement is in meeting the healthcare goals of patient engagement, improving the health of populations and reducing healthcare costs, otherwise known as the Triple Aim.
The overall process for EBP is based on the process we learned during our nursing education. We see evidence of EBP daily in our work as professional case managers. As case managers, we assess, evaluate and develop a plan with the client. Case managers use evidence-based clinical guidelines or algorithms to conduct assessments and management of the client. Examples of evidence-based guidelines are Milliman Care Guidelines, which are reviewed and published annually to reflect the most current medical treatment plans. As case managers assess the client, the guidelines flow to assist the case manager in developing a self-management plan.
As the case manager works with the client, these plans help identify barriers and provide guidelines for interventions and education. Utilizing guidelines to assist with treatment planning and follow-up, the client receives optimal care, health outcomes improve and cost reduction can potentially be achieved.
Professional case managers perform in many healthcare arenas, including hospitals, health insurance, workers' compensation and independently. The use of evidence-based practice supports the role of case managers regardless of the arena since it sets the standard for achieving the Triple/Quadruple AIM. In addition, utilizing EBP provides standardization and credibility to the profession.
Milliman Care Guidelines are just one resource utilized throughout the industry for EBP. Additional EBP resources are CMBOK https://cmbodyofknowledge.com, AHRQ https://www.ahrq.gov/ncepct/care/coordination/mgmt.html, NTOCC https://www.ntocc.org, and PCORI https://www.pcori.org.
FUTURE
As we move forward into the foreseeable future, aiming to address some of the 358 core objectives of Healthy People 2030, population health is a fundamental part of how we view our patients (Office of Disease Prevention and Health Promotion, 2020). Patient management no longer involves safely transitioning the patient from the hospital to the community; we must look at our chronically ill patients and how we can be more effective in achieving better outcomes (Relias Media, 2018).
The Standards of Practice for Case Management (2022) charges the case manager to implement evidence-based care guidelines in the care of clients, as available and applicable to the practice setting or client population served. The charge is purposeful because it forces us, case managers, to reflect on our role and why we do what we do.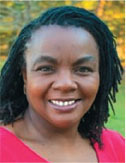 is a strategic, hands-on, collaborative leader. Her expertise is in improving health outcomes, lowering costs, and improving the patient experience in the healthcare system.
REFERENCES
Case Management Society of America. (2022). CMSA Standards of Case Management Practice, 2022 Revision | Case Management Society of America. CMSA. https://cmsa.org/sop22/.
Karimi, H., & Masoudi Alavi, N. (2017). Florence Nightingale: The Mother of Nursing. Nursing and Midwifery Studies, 4(2). https://doi.org/10.17795/nmsjournal29475.
Maschi, T. (2016). Applying a Human Rights Approach to Social Work Research and Evaluation A Rights Research Manifesto. Cham Springer International Publishing.
McDonald, L. (2001). Florence Nightingale and the early origins of evidence-based nursing. Evidence-Based Nursing, 4(3), 68–69. https://doi.org/10.1136/ebn.4.3.68.
Office of Disease Prevention and Health Promotion. (2020). Healthy People 2030. Health.gov. https://health.gov/healthypeople.
Relias Media. (2018). What Does Population Health Really Mean for Case Managers and Social Workers? Www.reliasmedia.com. https://www.reliasmedia.com/articles/143522-what-does-population-health-really-mean-for-case-managers-and-social-workers.
Ross, J. (2006). Evidence-Based Practice: A Buzz Word or a Reality? Journal of PeriAnesthesia Nursing, 21(3), 151–152. https://doi.org/10.1016/j.jopan.2006.05.001.