AUTHOR GUIDELINES
Thank you for your interest in writing an article for publication in CMSA Today!
CMSA Today is the magazine for professional case managers. We accept and will consider original
articles written by case managers and healthcare professionals from all backgrounds for publication.
Expertly prepared articles on case management-related topics from professional writers – whether
medical writers or experienced generalists – will also be considered.
SUBJECT MATTER
CMSA Today welcomes a wide variety of featured articles and column content that are relevant to
professional case management practice, including (but not limited to):
Behavioral and mental health in case management
Case management best practices and success stories
Case management trends and issues
Communication and collaboration skills
Cultural competence and cultural humility
Ethical and legal issues, trends, case studies
Emerging technologies and digital solutions
Health care equity, diversity, and inclusion
Innovative approaches to case management practice
Inspirational case studies (personal or professional)
Leadership development and effectiveness
Legislative and regulatory updates impacting practice
Outcomes of specific case management programs
Palliative care, hospice care, and end-of-life care
Population-specific challenges and interventions
Public health policy and advocacy
Quality improvement and accreditation
Self-care and wellness for case managers
Standards of practice with case study application
Successful case management techniques or practices
Updates in evidence-based assessment and care planning
Workforce trends and professional development
ARTICLE LENGTH
The preferred length for a feature article is 750-2500 words, with the average usually around 1,500.
Please inquire with editorial staff if your feature article length is more than 3,000 words.
WRITING STYLE
In a nutshell, CMSA Today features a "breezy but professional" style – an informal style more like what
might be seen in a popular magazine than in a professional academic journal. Our advice: Write the
way you would speak to a colleague!
To achieve this informative and engaging style of writing, here are some tips to remember:
Keep your audience in mind: CMSA Today readers are professional case managers and other
health care professionals across the continuum of care.
Use clear and concise language: Avoid using complicated words and jargon – use language that
is easy to comprehend.
Write in an active voice: Using an active voice can make your writing sound more engaging and
less formal.
Be conversational: Write as if you're having a conversation with the reader. This can help make
your writing more relatable and engaging.
Avoid overly formal language: While it's important to maintain a professional tone, using overly
formal language can make your writing sound stuffy and difficult to read.
Use examples and anecdotes: Use real-world examples and stories to illustrate your points. This
can help your readers understand how your ideas apply in practice.
Use headings, subheadings, and bullet points: Using headings and bullet points breaks up text
and makes the article easier to read.
COMMERCIAL-FREE CONTENT
No submission to CMSA Today should be a marketing piece or promotion for a company or employer or
written for any purpose other than to share unbiased and impartial information regarding case
management practices and related items of interest.
Article content must be product-agnostic or product-neutral. Types of medical equipment or products
should be described generically and not by manufacturer unless truly necessary, such as when only one
manufacturer makes the equipment or product.
This same rule applies with companies, except when the author's company (or authors' companies) play
an integral role in the article. In this case, the frequency with which a company name appears in an
article is subject to editing.
Drugs should be identified by their generic name, followed in parentheses by their branded or
commercial name, for clarity, or if otherwise necessary, such as for accepted treatment protocols.
MANUSCRIPT PREPARATION
In preparing your manuscript for submission, please remember these guidelines:
Use Microsoft Word for all submissions. Please use a single space between each sentence and
avoid formatting the document using macros or footnotes.
Please refer to the Associated Press Stylebook (www.apstylebook.com) for writing-style
guidelines regarding grammar, spelling, punctuation, and language usage.
Articles should include the names of all contributing authors, along with a bio for each. The
length of each bio should be no more than 100 words.
Include a suggested title for the article. CMSA Today reserves the right to change or edit as
needed.
Any references should be listed at the end of the article.
• Any information in the article that is based on findings from a published or unpublished
study or other data-finding method should be referenced.
• References should be in American Psychological Association (APA) format as follows: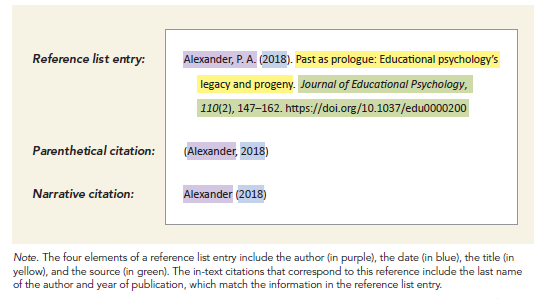 Image source: https://apastyle.apa.org/style-grammar-guidelines/citations/basic-principles/author-date
ADDITIONAL MATERIALS
Reader aids such as photographs, charts, illustrations and maps enhance the readability and usefulness
of articles. Authors are encouraged to submit relevant graphics with articles for consideration. All
graphic elements must include suggested captions to explain what and who is depicted and (as
applicable) must have the name of the person whose work it is and include written permission to use.
MANUSCRIPT SUBMISSION
Submit articles for consideration to [email protected]. Attach the Microsoft Word file to the email.
Please include the following information for the author (or for each author if article written by multiple
contributors):
Name and credentials
Job title and employer
Brief bio that highlights degrees, certifications, experience (maximum length 100 words)
Photo (headshot)
Email address and phone number
CONSIDERATION AND REVIEW
Acceptance of an article for review does not guarantee that a submitted article, or undeveloped article
idea will be published. All material submitted for review and consideration for publication must pass
editorial review by the managing editor and, when necessary to ensure technical accuracy, the Editorial
Advisory Board.
REQUIRED ACKNOWLEDGMENTS
All submitters acknowledge that material, if accepted for publication, becomes CMSA Today and
Association property.
Authors also acknowledge that they own or have permission to submit and to transfer ownership of
material at the time of submission. Submitters acknowledge, on submission, that neither CMSA Today
nor the Association, or any of the Association's affiliates, is responsible for or liable for any financial or
legal claim connected to submission of materials to be considered for publication.
Authors guarantee, to the reasonable extent they are able, that all information in articles and
illustrations submitted is accurate and true, and that authors made a reasonable attempt to ensure the
accuracy and truth of content. Authors also acknowledge that, when required, patient and other waivers
are secured when appropriate, and must furnish this material to CMSA Today or to the Association on
request.
OWNERSHIP AND RIGHTS
When accepted for publication, all material becomes the copyrighted property of CMSA Today and the
Case Management Society of America (the "Association"), either of which may use that property online
or in print for any purposes the Association desires. The property, once owned by CMSA Today and the
Association, may be used afterward elsewhere only as specified under express permission of the
Association. Any material accepted for publication may appear in the print or digital version of CMSA
Today, or elsewhere, depending on CMSA Today's or the Association's needs, which are determined
solely by CMSA Today or the Association.
COMPENSATION IS HELPING YOUR PROFESSION
The benefit of being published is to advance professional case management practice. Neither CMSA
Today nor the Association pays contributors for articles that CMSA Today accepted for publication, nor is
a kill fee paid if an accepted or scheduled article for publication is not published.
NO GUARANTEES
Acceptance for publication does not guarantee publication. CMSA Today and the Association are the
final arbiters on publication of any material, whether unsolicited or solicited, that is submitted for
consideration, or is accepted, for publication
Submit articles for consideration and any questions regarding the guidelines to [email protected].