CMSA's ICM program provides multiple strategies to engage clients, stratify risk and develop care plans to mitigate risk and help clients achieve improved health and well-being. Our training includes review of "CMSA's Integrated Case Management Manual: For Case Managers by Case Managers," online learning sessions, self-study activities to prepare for face-to-face training and 16 hours of interactive practical application in a classroom setting.
Program Elements
ICM manual study
Post manual exam
Online training sessions
Face-to-face training
Nursing, Social Work and CCM CEU's: 30 hours at completion of the program
Certificate of completion in Integrated Case Management when all program elements are met
Want to learn more? Download the ICM whitepaper today. Or, if you're ready to register, do so today at the link below. CMSA members receive a large discount!
https://www.cmsa.org/education/icm/
CMSA STANDARDS OF PROFESSIONAL CASE MANAGEMENT PRACTICE COURSE
CMSA's Standards of Practice for Case Management serves as a unifying force for professional case management practice by providing a common understanding and application of the case management role, process and expectations.
The CMSA Standards of Professional Case Management Practice online course is made up of 16 online modules and designed to enhance knowledge of each of the 15 Standards. By expanding on these common principles, professional case managers receive a unified education creating quality skill sets across the healthcare continuum. The coursework embraces the case management care continuum in any work environment, which contributes to consistency in foundational case management knowledge and a long, sustainable workforce.
This course is pre-approved for 32 hours of continuing education credit for RN, SW and CCM. Individual, student and group rates are available.
Expand your knowledge of the CMSA Standards and common industry terms, demonstrate the use of the Standards through case studies and create consistent delivery of case management related services.
Preview the online course and register today!
https://www.cmsa.org/sopcmcourse/
UPDATE YOUR CONTACT INFORMATION TODAY
If you are a CMSA member and have moved, changed email addresses or started a new job, let us know! Visit cmsa.org/clientservices to update your information online, or contact us by phone at 501-225-2229.
CMSA BOARD OF DIRECTORS SPOTLIGHT
Angie Millan DNP, RN, FAAN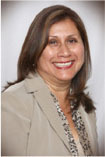 Angie Millan is a former nursing director for Children's Medical Services (CMS) at the county of Los Angeles' Department of Public Health. CMS encompasses California Children's Services; Child Health and Disability Prevention; and Child Welfare Public Health Nursing Program. She currently serves as a nursing professor and case management consultant.
Millan was previously national president and board member of the National Association of Hispanic Nurses (NAHN), past member of Nursing Advisory Council of the Joint Commission and a member of the Commission to End Healthcare Disparities. She currently serves as a board member for NAHN, as commissioner for the office of Statewide Health Planning and Development and California Healthcare Workforce Policy Commission and a member of the Chamberlain University Board of Trustees.
Millan was inducted as fellow of the American Nursing Academy in 2012 and is a recipient of 2015 NAHN Nurse of the Year and 22nd Senate Woman of the Year award.
Millan holds both her bachelor's and master's degrees in nursing from California State University. She earned her Doctor of Nursing Practice (DNP) degree from Western University of Health Sciences, and she is licensed to practice nursing in the state of California and Washington, D.C.
BE AN EARLY BIRD FOR CMSA'S 30TH ANNIVERSARY ANNUAL CONFERENCE & EXPO!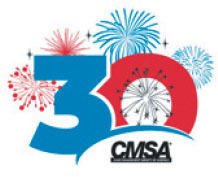 Join us for CMSA's 30th Annual Conference & Expo, "30 Years of Care Transitions Across the Full Continuum," June 28 – July 2, 2020 in Boston! Registration is open with early bird pricing through March 31; take advantage of the lowest rate of the year, plus discounts and payment plan options.
Get your colleagues together and register soon! Visit conference.cmsa.org for schedule details and to register.
CONNECT WITH THE CMSA COMMUNITY ONLINE
If you'd like to communicate with other case managers and health care industry professionals across the country, connect with CMSA on LinkedIn™, Facebook, Twitter, and Pinterest!
CMSA's LinkedIn™ Group alone has more than 17,000 members, where new discussions emerge daily.
We look forward to seeing you there!

Facebook: /cmsanational

Twitter: @CMSANational

LinkedIn: Search "CMSA"

Pinterest: /CMSANational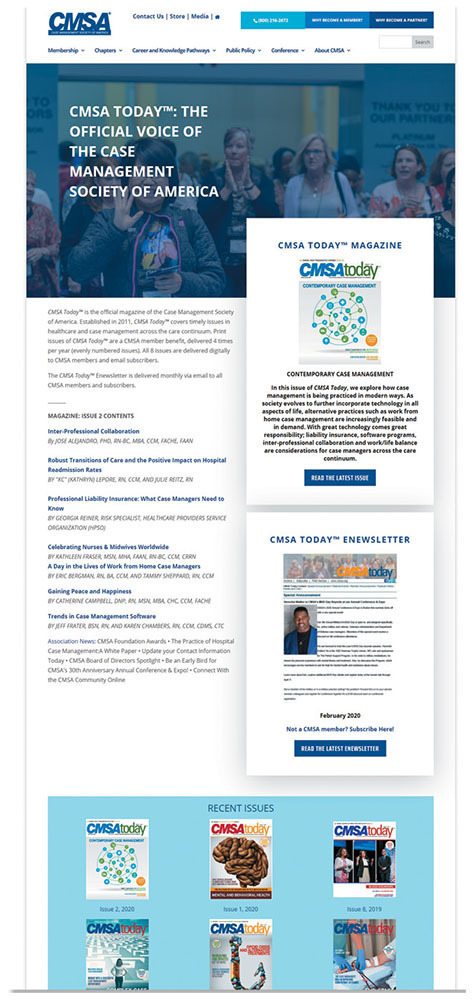 CMSA TODAY™ MAGAZINE – A NEW LOOK!
Since 2011, CMSA Today™ has been the official magazine of the Case Management Society of America, delivering timely content on case management and healthcare topics across the care continuum.
Now, your magazine and monthly enewsletter archive has a new look! Visit https://www.cmsa.org/cmsatoday/ to read the latest magazine issue, browse the archive and explore becoming an author for a future issue!
CONGRATULATIONS, NEW CCMs!
CMSA and CCMC are working together to continue advancing professional case managers in their career paths. CMSA members receive a 20% discount when applying for the CCM, as well as upon renewal. Those who hold the CCM certification receive a 20% discount for CMSA membership. If you're not yet a member but would like to save 25% as a newly minted CCM, please contact CMSA Client Services at [email protected] or 501-225-2229.
MEMBER NEWS
Have news about your CMSA member colleagues? Submit them to Client Services at [email protected] along with the subject line, "Member Updates for CMSA Today" to be included in a future issue of the magazine!