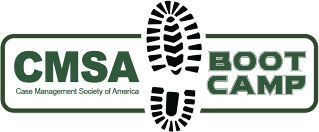 CMSA ANNUAL CONFERENCE—PRE-CONFERENCE SESSION HIGHLIGHT
Case management is a growing health care profession, with a presence in every health delivery setting. Professionals moving to case management positions may or may not have access to adequate orientation and training. They often learn on the job and are not exposed to knowledge and skills that advance the practice of case management.
CMSA is filling this gap with a CM Bootcamp offering for case managers looking to build their skills and experience. If you have been a case manager for five years or less, are looking to change your area of practice or advancing your professional growth, this course is for you!
CM Bootcamp is NOT hours of PowerPoint slides and lectures, but interactive exercises, activities and case studies that will provide real-life scenarios and practical application. You will leave this course prepared to take on new challenges with full confidence.
This course is not included in the general conference registration; additional registration and fee are required. Find out more and register at cmsa.societyconference.com.

CASE MANAGEMENT ADHERENCE GUIDE 2020
AN ESSENTIAL RESOURCE FOR FUTURE AND PRACTICING CASE MANAGEMENT PROFESSIONALS
Recognizing that the healthcare field has undergone significant changes in recent years, CMSA has published a new Case Management Adherence Guide (CMAG). CMAG 2020 helps healthcare professionals to gain and to integrate skills and methods for even more comprehensive assessments of clients, families or their support systems. The guide supports improvements in care planning, care coordination and care transitions.
CMAG 2020 is designed to help case management professionals achieve measurable outcomes with their interventions, rendering them more efficient, effective and valuable to their employers, clients and treatment teams. It provides readers with evidence-based assessment and intervention tools to improve patient treatment adherence. The tools found throughout the guide are in accordance with the standards set by the Case Management Society of America.
"When we started creating the Case Management Adherence Guidelines (CMAG), we were looking forward to establishing true outcomes for the practice of case management. It was our belief that true patient adherence and partnership in their treatment plan was the best path to quality and cost-effective care. However, we soon realized that we were actually establishing a new level of practice excellence for case management. The tools and techniques included in CMAG elevate the practice of case management and allow us to truly change the lives of the patients and clients we serve. By identifying barriers to adherence, and supporting patients and client in meaningful behavior change, we have proven our value. In addition, we have improved the lives and health of countless individuals. The latest iteration of the CMAG guidelines builds upon and continues the tradition of accountability and excellence that began nearly 17 years ago. The CMAG guidelines are based in science and provide a blueprint for case management that will serve us for years to come. I urge you to read this book and incorporate as many of the practices and tools as your practice allows. It will make you better case managers and provide your patients and clients with the best available standard of care."
∼Sherry Aliotta, RN, BC, BSN, CCM
CMSA members receive a 20% discount. Contact [email protected] to receive your discount code and order your copy today! www.cmsa.org