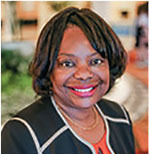 And these days, they are the loudest voices in the room…in the best of ways! "Daddy, can we go eat at the Door Dash restaurant instead of Door Dash man bringing our food to the house?" Uber Eats, Zoom Bomb, talking to grandma and grandpa on the iPad, are today's lexicon of 5-12-year olds. What better way to feature pediatrics in this issue than by reflecting on different generations and how their "world" and perspectives have shaped them and us!
Demographers describe population cohorts by generation and characteristics reflective of social norms, popular culture and current events during a specific time frame. While dates are approximations, cohorts are described as baby boomers (born 1954-1964), Generation X (born 1965-1975), Xenials, Generation Y or millennials (born 1976-1996), Generation Z (born 1997-2012) and Generation Alpha (2011-2025).
"Mommy, can I talk to grandma on the other phone in the bedroom?" Boomers experienced the Kennedy and Martin Luther King assassinations, Vietnam War protests, a good economy and the AIDS/HIV pandemic that altered hospital practices in a defining way. These 56-66-year-olds are optimistic, resilient and the masters of self-help strategies, making up a large percentage of CMSA!
"Can we go to Blockbuster if I'm good with the babysitter?" The 44-55-year-olds are Generation X, who were exposed to more daycare and higher parental divorce rates than previous generations. Highly educated, pragmatic and family-oriented, GenX are building significant wealth and financial security.
"Mom!… I need more data on my cell phone!" Xenials, ages 35-45 years and Generation Y, more commonly known as millennials, ages 25-40, represents the largest group since the boomers. They are tech savvy, tolerant of differences and possess global perspectives. These groups were raised with the internet, video games, music streaming and e-Books while submersed in family life and careers.
"When can I have my own Instagram account?" Generation Z reflects more than a 20-year span, and the descriptors are evolving. The social environment is filled with artificial intelligence, fluid media platforms and metadata. These sophisticated, racially diverse 8-24-year olds are smart, inquisitive and experimental. They experience less "face to face" contact due to smart device use and typically express more loneliness than prior generations. But look out for the Alpha generation, as their perspective on the future is having life-altering influences in real time!
A boomer kid may have said, "Daddy… can we go to the drive-in movie tonight?" A Gen Alpha kid may be saying "Daddy…can we go to the drive-up movie tonight, since we're social distancing?"
As with personality assessments, understanding attributes, values, communication and interaction styles of various generations may provide clues into how certain age groups will engage or be engagers. Now, more than any other time, we must seek to understand the influencers on the many cohorts of the CMSA membership. A culture of "community engagement and inclusion" embraces individual attributes of our members and encourages the expression of their lived experiences onto the functions and ambitions of CMSA.
Boomers and Generation Xers have wisdom and the experience of working in the care environment under ever-changing social and political conditions. Xenials, millennials and Generation Zs are bursting with innovative ideas, technology and new ways of doing business. But Generation Alpha is the exciting cohort to watch!
This pediatric group will build a future defined by the COVID-19 pandemic just as world events defined past cohorts. Will there be a more urgent focus on prevention? Will they make economic safety nets the highest priority? Will they trust artificial intelligence more than human interpretations?
An exciting trajectory in a post-COVID-19 world may feature nurses and other clinicians as the new super hero figures. Gen Alpha will figure out how to practice infection control in all walks of life. Or maybe they will move from social isolation by way of smart phones to social inclusion by way of smart devices using Zoom, Hangouts, TikTok and other online meeting platforms, transforming visual imagery for "normal" communication.
Will career aspirations change from an era of STEM (science, technology, engineering, mathematics) to an era where life and social sciences reign supreme? Today's pediatric generation will redefine "essential workers" and elevate the teaching profession to new heights! Anticipate a resurgence of community as our kids participate in events showcasing people helping others and healthcare professionals celebrating healing with bells, whistles and pot-banging. What we are doing today will leave an indelible mark on our children. Let's build an infrastructure in CMSA that will be a pathway for these future professionals to engineer a sustaining lifecycle of perpetual wisdom and inspiration.