BY JAMES PUENTE, MS, MJ, CAE
UPDATE ON THE CURRENT STATUS
The Nurse Licensure Compact is now in its 21st year of operation. At present, 38 states have enacted the NLC. The NLC allows for an eligible nurse (RN or LPN/VN) with primary state of residence in an NLC state to hold a multistate license valid for in-person or telephonic practice in all NLC states. In 2022, it is anticipated that most of the remaining states that have not yet enacted the NLC will introduce a bill with the intent of enactment.
WHERE DO NURSES NEED TO BE LICENSED?
The NLC was developed because of the need for nurses to be licensed in each state of practice. When a nurse practices telephonically with a patient or client in another state, practice takes place in the state where the recipient of nursing service is located at the time service is provided. That means that nurses who practice telephonically (i.e., telehealth) with patients/clients in other states may need to hold many licenses. The NLC multistate license eases that burden while maintaining state-based regulation. The ultimate goal of the NLC is a compact nation—that is, a compact with all states and territories. Once that is achieved, a nurse holding a multistate license will be able to practice anywhere in the U.S., in-person or via telehealth. Until that time, the multistate license gains more value with each successive state that enacts the NLC legislation. In 2022, it is anticipated that the NLC will pass the 40-jurisdiction mark.
UNLICENSED PRACTICE
In a country where each state has the constitutional right to protect the health and welfare of the people of that state, the state does this by imposing the requirements for a nursing license but also by offering recourse to individuals who may have been injured or negatively affected by an unsafe or incompetent nurse. Therefore, a state has an expectation that a nurse practicing with a patient/client in any given state has the authority to practice in that state. That authority is granted via a license or a multistate privilege to practice (via a multistate license). When a nurse is found not to be licensed in a state of practice, regardless of a potential malpractice issue, the nurse may be found by a state board of nursing to be practicing unlicensed. The penalties for such a violation will vary by state law, and the nurse's prior disciplinary history may also play a role.
The NLC multistate license demonstrates a model of public protection. In this way, a nurse under many forms of discipline is no longer eligible for a multistate license. This does not prevent a nurse from seeking to get multiple single state licenses. But the loss of a multistate license will certainly interrupt the practice of any telephonic practicing nurse who practices in multiple states.
MULTISTATE LICENSURE IS ECONOMICAL AND EFFICIENT
Many employers fund the multiple licenses that nurses in their employment may hold. In fact, many large companies have a department of staff who work to ensure that the nurses in their employment are appropriately licensed, including renewal of the license on time. Employers who fund or reimburse their employed nurses for the cost of licensure have a great deal to save with every state that joins the NLC. It behooves such nurse employers to endorse the NLC and to lobby to get the NLC enacted in the remaining states. Of course, not all employers cover the expense of the licenses of their nursing workforce. Most times, the nurse bears the expenses. With the multistate license, nurses, too, have much to save by holding one multistate license.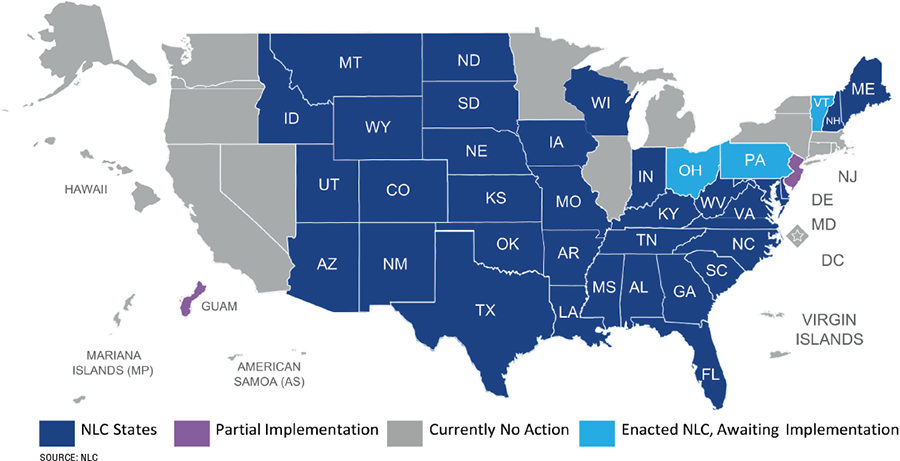 THE NEED FOR MULTISTATE LICENSURE IS IN MOST NURSING SETTINGS
Thirty years ago, many may have thought that only nurses working in a call center needed to hold licenses in various states of practice. Still today, many think that the multistate license is only relevant for travel nurses. The reality is that any nurse who is engaging with a patient/client via telephonic (call/text) or electronic (email/video platforms) is practicing via telehealth. Such nurses need to hold the authority to practice in the state where the patient/client is located at the time service is provided. So, this is not just applicable to specific categories of nurses but to nurses in managed care, in case management, in emergency rooms, in acute care hospitals, in occupational health and the list goes on. Telehealth practice is not limited to certain job titles or certain nurse occupations.
KNOWING THE LAWS OF THE LAND
Further, it has always been the case that when a nurse is practicing with a patient in a jurisdiction, (whether the nurse and patient are in the same state or a different state), that the nurse is knowledgeable of the nurse practice laws in the jurisdiction where the patient is located at the time of service. Those are the laws that govern the practice of that nurse. Those are the laws that a nurse may violate when practicing with a patient. Therefore, it would be advantageous for any nurse to be aware of the state nurse practice act (NPA) and scope of practice for each state in which the nurse is treating patients. All state NPAs can be accessed at https://www.ncsbn.org/npa.htm.
EMPLOYERS OF NURSES SEEK TO BE COMPLIANT AS WELL
It is not only the nurse who may be at risk when practicing unlicensed. Employers of nurses share accountability as well. CMS and other payers certainly expect that they are reimbursing employers for the service provided by an appropriately licensed nurse. That is safe to assume. But accrediting bodies, agencies that license facilities and others have an expectation that the licensed employer has appropriately licensed nurses in its employ. It is often the case that employers subject to external audits are found to have employed nurses who provided nursing service while not being appropriately licensed. Where reimbursable nursing service applies, such reimbursement is often forfeited.