It's no secret that value-based care (VBC) is a significant feature of today's healthcare ecosystem. Case managers need to understand what the value-based paradigm is all about to fully appreciate the implications for professional practice. An important piece of this is knowing why integration of both clinical and technological best practices is critical for case management success in VBC.
Value-based healthcare seeks to advance the goals of providing better care for individuals, improving population health management strategies, reducing healthcare costs and reducing disparities in care. Case management and technology solutions are two key strategies for payers and providers to achieve these goals in a VBC environment.
Professional case managers interested in improving their competency in this domain should be asking the following questions: What exactly is value-based care? How and why did it evolve? What are the goals? How does case management deliver value in this ecosystem? What are the best practices in technology and case management that will ensure success? What are some ways to help us thrive personally and professionally in the value-based environment? Let's take a deeper look at these questions from a case management perspective.
WHAT IS VALUE-BASED CARE?
In the most general sense, VBC is about linking payments to outcomes. Healthcare providers are compensated on patient health outcomes rather than on the amount of healthcare services they deliver. Providers are rewarded for helping patients improve their health, prevent or manage chronic disease and live healthier lives (NEJM Catalyst, 2017).
One key structural component of VBC is new innovative models of care delivery that are patient-centric and foster accountability for patient outcomes and care effectiveness. Examples of these new care delivery models include:
Accountable care organizations (ACOs) in both the public and private sectors
Patient-centered medical homes (PCMHs) in primary care practices
Integrated healthcare delivery systems and provider-sponsored health plans
Another key structural competency involves new alternative models of payment that are premised on value-based contracting and outcome-based risk sharing. Some examples include:
Pay-for-performance and bundled payments
Shared savings and shared risk
Population-based global payment
These new delivery and payment models require a strong technology infrastructure for data analysis and reporting. Provider performance is evaluated against standardized measures relating to care access, effectiveness of care, patient safety and patient satisfaction. Some standardized performance measures commonly used to measure care outcomes include Healthcare Effectiveness Data and Information Set (HEDIS®) scores, Consumer Assessment of Healthcare Providers & Systems (CAHPS) scores and Medicare Stars ratings.
HOW AND WHY DID VALUE-BASED CARE EVOLVE?
The shift to VBC has evolved over time in the U.S. healthcare ecosystem. To better understand this shift, it helps to think of it happening in three phases (See Figure 1). The time frames for these three phases overlap, but in general reflect periods of progression with key milestones and developments within the healthcare industry.

Unsustainable cost and quality trends in healthcare (pre-1995 to 2010):
This era is characterized by rising costs resulting from a fee-for-service (FFS) reimbursement system. Provider payment was dependent on the quantity of care, not necessarily the quality of care. Other trends during this era included uncoordinated care and care fragmentation resulting in adverse health outcomes and poor patient experiences of care.
2. New models of healthcare delivery and reimbursement (2010 – 2020):
This era is distinguished by a major shift from FFS to value-based payment programs driven by public policy mandates designed to reduce spending while ensuring quality outcomes. The Affordable Care Act (ACA) of 2010 was a turning point and key driver of significant advancements in testing and implementing patient-centered models of care, such as accountable care organizations (ACOs). Providers assumed new responsibilities and new risk under these models, requiring a strong focus on evidence-based coordinated care and demonstration of quality outcomes.
3. Accountability for value-based outcomes (2015 – 2025+):
As a natural result of these new models, providers and payers are being held accountable for improvements in delivering comprehensive coordinated care and achieving quality outcomes for the population served. Achieving and demonstrating these improvements has been significantly influenced by countless technological advancements in recent years. In this current healthcare ecosystem, there's a clear expectation that patients attain improved health in a way that matters most to them – and that is at the very heart of what VBC is all about (Teisberg, 2020).
WHAT ARE THE GOALS OF VALUE-BASED CARE?
A value-based healthcare ecosystem is designed to create accountability for improving outcomes of care. The primary goal is to improve effectiveness and quality of care while reducing overall cost of care.
Care delivery in a VBC model is designed to accomplish the following objectives:
Improve effectiveness and quality of care across the care continuum
Adopt and integrate technology to improve processes and outcomes
Address health equity and reduce disparities of care
Minimize fragmentation and improve transitions of care
Expand access to evidence-based care
Enhance patient and provider experience with care
This requires providers to broaden their focus from individual patients' diseases and episodes of care to patient care needs across the continuum, including the impact of social determinants of health (AHA, 2019).
In October of 2021, the Centers for Medicare & Medicaid Services (CMS) Innovation Center launched a new strategy for advancing health system transformation. This strategy is designed to achieve equitable outcomes through high-quality, affordable, person-centered care (CMS, 2021) and is well-aligned with VBC objectives. In fact, CMS identified driving accountable care as a key objective to achieve this vision.
To this end, CMS has set a goal for all Medicare beneficiaries and a vast majority of Medicaid beneficiaries to be in an accountable (value-based) care relationship by 2030. This ambitious target underscores the fact that adoption and implementation of accountable care is a critical component of achieving the goals of VBC.
HOW DOES CASE MANAGEMENT DELIVER VALUE IN THE VALUE-BASED CARE ECOSYSTEM?
The goals of VBC may seem grand and abstract, but there are many well-defined activities that ensure success in a value-based ecosystem when implemented in an integrated fashion. These key success factors include:
Patient-centered philosophy and operations
Coordinated and integrated population health models
Effective processes for risk stratification, patient engagement and care coordination
Robust technology for advanced analytics, data integration and reporting
Identification of targeted patient populations and opportunities
Continuous quality improvement mindset
Case management brings value because it delivers on all these success factors. Why? Because the very premise of care management is based on the fact that appropriate, timely and evidence-based interventions for individuals within a given population will reduce health risks, improve effectiveness of care and decrease cost of care.
What helps drive this value equation? Consider the key features of high-performing case management programs:
Integrated team-based, person-centered approach that addresses physical, behavioral and social issues
Proactive patient engagement and intervention
Managing individualized patient health needs and driving active, meaningful engagement
Addressing social determinants of health (SDOH) and facilitating access to care
Coordinating care across patients' healthcare ecosystem, including community resources and providers
Providing support with self-care management and risk reduction
Clearly, it's easy to see how these case management activities are essential to the success of VBC.
There's abundant evidence supporting the outcomes of high-performing care management programs, including the reduction of inpatient readmissions and unnecessary ER utilization, improvement in access to evidence-based care, positive impacts on HEDIS scores, Star rating results, improved patient and population outcomes including health, quality of life and satisfaction. Without a doubt, these are the types of outcomes that directly impact population health and deliver significant value in VBC.
WHAT ARE THE BEST PRACTICES IN TECHNOLOGY AND CASE MANAGEMENT THAT WILL HELP ENSURE SUCCESS?
Best practices in case management fall into two domains: clinical and technological (See Figure 2). It's important to realize that transformative outcomes don't just happen; there needs to be a tightly aligned and integrated approach between these two domains of best practices.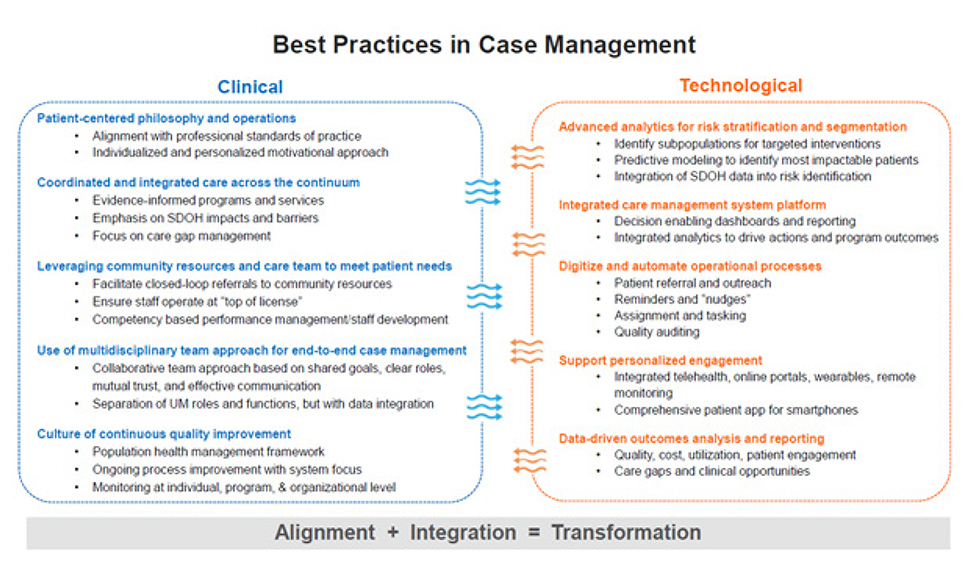 1. Best practices in case management clinical operations include:
Patient-centered philosophy and operations
Coordinated and integrated care across the continuum
Leveraging community resources, providers and care team to meet member needs
Use of multidisciplinary team approach to provide end-to-end case management services
Culture of continuous quality improvement
2. Best practices in case management technology include:
Advanced analytics for risk stratification and patient segmentation
Data-driven outcomes analysis and reporting
Integrated care management system platform
Automating manual operational processes
Supporting personalized engagement
The incorporation of technology best practices into case management clinical operations is imperative. Why? Because value-based care is driven by data. Robust data analytics are needed to effectively track and report on a myriad of clinical and quality metrics related to utilization, access to care, effectiveness of care, population health, patient engagement and health equity. Since much of this type of activity is impacted by case management intervention, it's critical to ensure tight linkages between clinical case management operations and data technology systems if truly transformative outcomes are to be achieved.
Best practices can be used to gauge the maturity level and overall effectiveness of any given organization's clinical operations. There's definitely a cumulative effect that happens because mastering one or two key ones often paves the way for others to fall into place. It's good to remember that the more best practices are in place, the more value will be derived.
HOW CAN CASE MANAGERS THRIVE PERSONALLY AND PROFESSIONALLY IN THE VALUE-BASED ENVIRONMENT?
An environment of constant change, disruption and transformation can create ongoing pressure and even a sense of uncertainty at times. There's no question that case managers have a seemingly never-ending challenge of learning, knowing and doing more than ever before.
Transformational changes in the industry and in our workplaces – changes with care delivery and reimbursement models, with technology and communication, with staffing models and training – require case managers to develop new competencies to thrive in the VBC environment.
We all have a responsibility to raise awareness, knowledge and understanding of VBC. Oftentimes, this requires moving from a transactional mindset (characterized by a day-to-day focus that maintains the status quo) to a transformational mindset in which "big picture" thinking enables a future-oriented focus that provides motivation to achieve desired outcomes.
Within the VBC environment, case managers can develop resiliency and be more effective in their roles by focusing on the following behaviors:
1. Find ways to achieve balance between the art of case management (the way we communicate and interact with our client) and the science (the technology we use to carry out the case management process)
2. Keep an open mind to new, creative and resourceful ways of using technology to empower and engage patients and promote patient-centered care throughout the care continuum
Embrace new health information technology solutions as tools to effectively coordinate care, promote collaborative practice and improve patient care and outcomes
Demonstrate understanding of how emerging technology can be used to promote effective care coordination within interprofessional models of practice and care settings
Advocate for the appropriate use of technological tools and applications that enable self-care management and informed decision making by patients and families
3. Be flexible and embrace new ways of "thinking and doing":
Step back from what is already known to better see the "big picture" and enable fresh perspectives and new possibilities
Challenge the "status quo" of how work gets accomplished and imagine different ways of getting things done
Set aside usual frames of reference so that new situations or challenges can be approached with an open mind
Ensure that new ways of "thinking and doing" are aligned with personal and professional values
4. Remember to firmly ground everyday practice in the spirit and intent of case management's professional Standards of Practice
These behaviors will help ensure that professional case managers thrive in the VBC environment and experience the satisfaction that comes from meaningful and purpose-driven work with patients.
SUMMARY
In the value-based care environment, case management is a cornerstone strategy for payers and providers to reduce costs, improve quality of care, enhance patient experience and improve healthcare equity. Case managers need to be knowledgeable about VBC and recognize the central role case management plays in its success. However, VBC is data-driven; therefore, transformative outcomes in case management can be achieved only when there is full alignment and integration between clinical operations best practices and technology best practices. This integrated best-practice approach will help ensure that case management will continue to be recognized for the significant value it brings to value-based healthcare.
REFERENCES
American Hospital Association (2019) Evolving Care Models: Aligning care delivery to emerging payment models. https://www.aha.org/system/files/media/file/2019/04/MarketInsights_CareModelsReport.pdf.
Centers for Medicare & Medicaid Services (CMS) Innovation Center (Oct 21, 2021). Innovation Center Strategy Refresh. https://innovation.cms.gov/strategic-direction-whitepaper.
NEJM Catalyst (2017). Innovations in care delivery: What is value-based healthcare? https://catalyst.nejm.org/doi/full/10.1056/CAT.17.0558.
Teisberg, E., Wallace, S., & O'Hara, S. (2020). Defining and Implementing Value-Based Health Care: A Strategic Framework. Academic Medicine : Journal of the Association of American Medical Colleges, 95(5), 682 – 685. https://doi.org/10.1097/ACM.0000000000003122.
Image credit: ISTOCK.COM/IPOPBA