BY KIMBERLY JUNGKIND, MPH, MBA, BSN, RN, CCM, LSSYB
As COVID-19 patients continue to be admitted to hospitals across the U.S., we are all challenged to be supportive of these patients and their families. At Marble Falls Medical Center, part of the Baylor Scott and White Health System in Texas, the comprehensive care management (CCM) staff is providing care management services in the hospital and calling COVID-positive patients post-discharge. When calling patients post-discharge, we are asking them questions about monitoring their health, checking on medications, assessing for stress, and reminding them of the importance of a follow-up appointment with their primary care provider.
Often during these calls, patients will express their frustration at being home without being able to find resources such as digital thermometers, masks, surface disinfectants, etc., in local stores. Patients are willing to monitor their health if they can find the items they need. Even internet resources may be depleted at times, or it may take much longer for a patient to receive necessary items through the mail. Some patients have found thermometers at a very high price, and that may be a challenge for some to afford.
To address this gap in resources, the CCM staff created a list of items that post-discharge COVID-positive patients would need. We collaborated with the nursing leaders and staff and decided on the following items: digital thermometer, finger pulse oximeter, five surgical masks, helpful COVID information, easy-to-read tracking sheets for temperature readings, and a surface disinfectant. We also thought it would be helpful to have a disclaimer that these items are not a substitute for a patient's primary care provider visit, which is so important not to miss. Blood pressure machines were also considered but were not deemed a priority item for most patients.
Through a quick internet search, Carekit.com surfaced as a company that had expertise in creating these kinds of kits and met all of our requirements to meet the post-discharge COVID-19 patient resource gap. Other companies listed on the internet may also have similar expertise in items that would assist in addressing gaps in care. The staff at Carekit.com responded quickly with the expertise we needed to help COVID-19 patients who were discharging from the hospital.
COMMUNITY SUPPORT
The next step was to collaborate with the company clinical experts to create a sample kit and discuss the cost per kit. Once we had this information, we reviewed the final items for the kit. Funding for this initiative was our next challenge. We reached out for funding from a local church, which was willing to donate toward the "COVID Care Kit." We also discussed financial support of this initiative with our hospital leadership. The response was positive, and the funds would come from an employee-donated fund to help patients. The funding from these two sources provided the necessary funding to order the kits for patients in need.
IMPLEMENTATION OF THE INITIATIVE
Prior to a small supply of the kits arriving for COVID-19 patients, guidelines were established to include specific criteria for patients to receive the COVID care kit. Through an expedited committee meeting and care management staff huddles, participants agreed that the kits would benefit med/surg and ICU patients the most, as they are discharged with COVID-19 without these resources. The patients and families also needed to be willing to use the items in the kit and demonstrate a willingness to review the education for self-management. COVID-19 patients leaving the emergency department were also considered and may receive COVID care kits in the future if the initiative is expanded.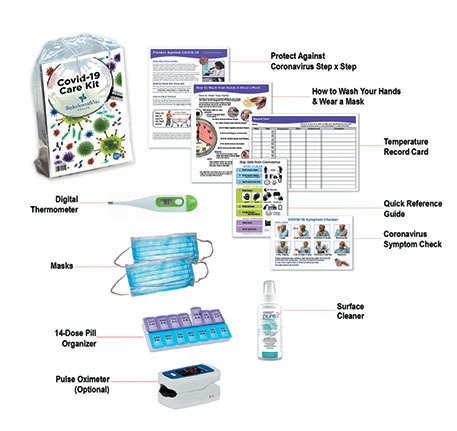 The care management staff delivered the items to the patients who met the criteria as described above. The care management leader provided a simple tracking form listing the patients and the date when the patient received the COVID care kit.
We shared a picture of the COVID care kit as a best practice idea with post-acute providers who participate in the local community coalition COVID-19 webinars. The aim of these webinars is to problem-solve community issues that arise related to patients with COVID-19. In sharing this best practice idea, we hoped others may see the potential gap in resources for COVID-19 patients in the local community.
OUTCOMES
As our COVID care kits were provided to appropriate patients, patients seemed to appreciate the items in the kit. Preliminary outcomes data tracking includes COVID-19 readmissions, and we are currently experiencing fewer readmissions for COVID-19 patients as compared to the last two months. Phone calls to patients revealed that the masks, digital thermometer, and the pulse oximeter were the most helpful items for patients.
We also found that we needed to provide items in the kit for Spanish-speaking patients. The education part of the kit was ordered to include education and tracking tools for Spanish patients.
IDEAS FOR KIT DEVELOPMENT:
Develop a kit that works for your patient population.
Share best practices to identify contents of the kit.
Feedback and input from patients is helpful to determine the contents of the kit.
Identify local resources: community churches, local groups, donors, etc.
Speak to/contact patients and their families for ideas of what would be ideal in a care kit.
Consider a local COVID-19 webinar with post-acute providers to share issues and best practices. Create a kit with their help if needed.
Consider providing the educational items in the kit for other patient populations such as Spanish, French, etc.