BY 
LAURA COUGHLIN
, RN, BSN, MBA
AI AND CLOUD-BASED SOFTWARE ARE LEADING TO BIG CHANGES, BUT FOR CASE MANAGERS WILLING TO EMBRACE TECHNOLOGY AND ADAPT, IT CAN HAVE POSITIVE EFFECTS ON BOTH PATIENT OUTCOMES AND THE QUALITY OF WORK LIFE
"I was promised flying cars." We've all heard this phrase, which captures our disappointment when technology can't keep up with unrealistic expectations. Today, the equivalent might be artificial intelligence, that buzziest of all technologies that promises to change everything. With AI, there's also a sense of foreboding, as pessimistic futurists talk about how many jobs will be lost to machines.
I certainly don't subscribe to this view. In my role at Change Healthcare, leading clinical innovation and content development for the InterQual® suite of evidence-based solutions, I see AI as a powerful tool. It helps us do our jobs by performing important but mundane and repetitive tasks, or quickly synthesizing large amounts of data to give us rapid insights. By doing so it allows us to focus on the areas where our expertise and experience are most important and helps guide our human decision-making. In hospitals and clinical environments, AI can be useful in providing predictions about patient care by crunching massive amounts of data. But to be truly transformative in healthcare management, AI needs to be coupled with clinical data and the case manager's experience to make informed decisions as efficiently as possible.
New applications and AI are not a cure-all, and they're also not going to replace utilization or case managers. If anything, we need more young people to join the ranks! But these technologies can be a force multiplier for those who are willing to adapt.
HOW ARTIFICIAL + HUMAN INTELLIGENCE WORK HAND IN HAND
Today, most case managers do not have access to critical decision-making information—clinical data—in a timely manner. Finding such information can be a laborious and tedious process. Oftentimes, the required data within the electronic health record (EHR) is only available late in the decision-making process, or after a care decision has already been made. The result? Inefficiency and possible medical necessity denials.
The best solution combines AI and automation with rigorously developed, objective and specific evidence-based criteria. It provides case managers with constant access to clinical data, as well as predictive analytics that are continuously updated in real time based on the patient's EHR data. Leveraging millions of data points from similar patients, these analytics can predict a patient's status (inpatient or observation), length of stay and discharge destination, providing the probability for each. This process is live throughout the patient journey, starting before admission all the way through to discharge. These applications can also automatically populate and complete medical reviews with the relevant data embedded, leveraging sophisticated clinical informatics in a process called robotic process automation, or RPA. By delegating routine tasks that humans used to do to RPA, hospitals can reduce burdensome data collection and entry tasks for the case manager (we can all use less paperwork!). This allows case managers more time to focus on high-impact activities like care coordination.
AI ENHANCES (NOT REPLACES) EXPERTISE AND EXPERIENCE
There are some AI-driven predictive analytics systems that aim to fully automate the decision-making process. I think this is the wrong approach. AI-powered predictive analytics can assist care teams in placing patients in the right setting for the right amount of time, inarguably leading to improved clinical and financial outcomes. However, at the end of the day, care and utilization decisions need to be based on evidence and clinical data.
This AI-only approach not only eliminates the benefits of clinical training and experience, but it also locks the decision criteria in a "black box." That is, the software recommends a course of action without providing the detailed clinical criteria it used to come to its conclusion. This creates an obvious issue if a payment is later denied, as a successful defense may be impossible without the specific criteria used to make the recommendation. Additionally, case managers need guidance along the patient journey. Knowing what to do as the patient progresses through care transitions is key to successful patient outcomes, which lower readmissions and payment penalties.
AI provides enhanced decision-making, not a complete solution. Fifty years ago, we used a compass and a map to navigate; today, we have numerous apps on our phones that enhance our decision-making and inform us about car crashes and detours. But at the end of the day, a driver must use their own knowledge, such as knowing they need gas or must make a stop along the way, when choosing the best route. The existence of AI does not take the place of experienced professionals making informed decisions. When AI is embedded in a system that provides the user with pertinent data in real time, it can be a powerful supplemental tool that gives the case manager information they may not otherwise know.
THE PATH FORWARD FOR UTILIZATION AND CASE MANAGERS
If utilization management is your sole role today, what should you do? Start to adapt and embrace this opportunity to grow professionally. Take courses in case management; add a stretch goal for this year to shadow a case manager and learn more about what they do at your institution. Every year, we survey our client base to learn how their organizations handle case management. About 60% of organizations have separate utilization manager and care manager roles. Approximately 40% have a blended role (case managers that do both utilization management and case management). As these solutions become more widespread, we're likely going to see more of a blended model.
For case managers, it makes sense to learn more about how these solutions work, and how your processes can be improved by leveraging new technologies. Knowing how to maximize the benefits you can receive from these solutions doesn't just help your organization; it also makes you an even more indispensable part of the team. It will also likely reduce the administrative burden of mundane and repetitive tasks.
For utilization and case managers who are new to such technologies, it will take some adaptation and learning to optimize their use. Ultimately, though, like all great technologies, AI and automation simplify complex but repetitive tasks and allow us more time to leverage our experience and expertise. In other words, it gives us more time to be human.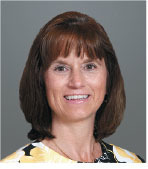 Laura Coughlin, RN, BSN, MBA, is vice president of Clinical Innovation and Development at Change Healthcare, leading clinical content strategy and product innovation across the InterQual suite. She is a registered nurse and has served in leadership roles at Healthsource, New England Deaconess and Olsten Kimberly Quality Care. To learn more about AI, automation and evidence within case management visit www.InterQualAutoReview.com